MDST3712 — Spring, 2021
Note: I do not support petitions for this course to count for the University's Second Writing Requirement. While a great deal of writing is required for the course, it is largely of a creative and peer-assessed manner, and is thus inappropriate to fulfill that requirement.
Many forms of media are centered around story, narrative, and world-building. In recent years, however, some media have introduced new and interesting ways for narratives to involve play — through making choices that direct the story, allowing audiences to meaningfully interact with the story, and otherwise make storytelling "interactive." In this course, we will engage with interactive storytelling in media, through a focus on popular playful media — digital games, role-playing, board and card games, and interactive storytelling media of other forms. This course will be taught face to face in Spring, 2022. Additionally, all students will be required to participate online in addition to class meetings, and will have some synchronous play with other students required (either online or in class).
This course will begin with a dive into relevant academic scholarship and will quickly move into being primarily focused on game design. Students will play and prototype at least four different interactive narrative experiences over the course of the term across multiple platforms including Twine (text-based interactive fiction), Bitsy (simple two-dimensional game spaces), along with role-playing and board/card game design. Students will encounter a number of ways that storytelling has been made interactive through mobile and console video games, alternate reality games, tabletop "story games," and through interactive experiences in media streaming platforms (Netflix, in particular).
No experience with games (storytelling or otherwise!) is required, and no previous experience with game design is expected. All platforms for design have been chosen to facilitate interactive story design from novice designers, with no programming experience needed. However, all students will be expected to engage with interactive storytelling critically across multiple forms, to wrestle with their understandings of these media through design, and to articulate arguments for understanding the implications of playful narrative media for other media. This course will feature no in-class exams of any kind, with all assessment focused on multiple play and design experiences and a final, culminating analytic paper.
Even though we are meeting face to face, much of the class will be organized over Collab and Discord — using the tools on Collab for assignment turn-ins, and the tools on Discord to coordinate design projects, to connect with one another for any group play/design tasks, and to keep an informal discussion about course topics going outside of our official meeting times. Collab is a central hub for our official work (and the turn-in of assignments), while Discord will be our regular tool for connecting with one another.
This course will not require any books for you to purchase, but you will be required to have regular access to the internet for all instruction, you will need to have the ability to play several games over the term (from a list we'll negotiate in class, at least partially dependent on what hardware you have available to you), and you'll need to have access to a Netflix account for about one week's time. Some of these games will likely include: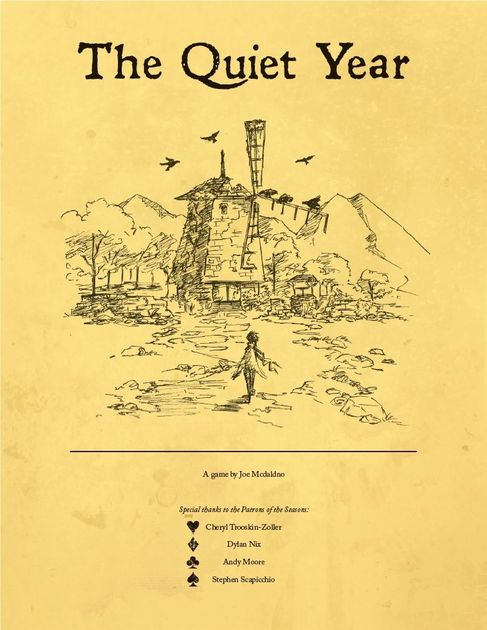 That is, the vast majority of games and interactive storytelling systems we will experience this semester will not be digital. That said, we will coordinate play sessions outside of class, typically over Zoom — none are required, but all will be encouraged for students to better understand the narrative systems we'll be exploring firsthand. In the class, we will explore the narrative potential of games and playful systems implemented with paper, pencils, cards, dice, maps, journals/diaries, and other physical media. If you are interested in this course because you are primarily interested in video games, this course may not be to your liking — if you are interested in courses that explore the creative potential of a tactile medium and allow students to work together to create collaborative narratives, then this will probably be fun for you!
If you have any questions about this or any other course (or anything else on this website), please don't hesitate to email Dr. Duncan at his first name dot his last name [at] virginia.edu.